The safety of your home or property is one of the many things that would naturally bother you throughout your day and could be a reason to worry, causing mental stress. This is perhaps because no matter how secure your neighborhood might be, you often hear stories about theft and robbery incidents taking place all the time.
While there isn't much that you can do during your absence from your home to keep it safe and secure from any intrusion, the most obvious thing you can do is make sure that your house's main entrance doors are properly locked. While relying on the traditional door locking systems is good enough to some extent, a great and more reliable Smonet door lock could be to enhance your existing security levels.
What is Smart Home Door Lock?
A smart home door lock is the most advanced door locking system for your home that comprises an electromechanical lock integrated with both a key and keyless locking and unlocking function.

A smart home door lock can be easily operated whether you are near the door or are actually at a far-off geographical location. It also can easily be accessed without any physical contact. It only requires an authorized person's authenticity or instruction to operate. These instructions can either be in the form of manually inputting a passcode or operating your smart home door lock via an app on any smart device.
Top 7 Benefits of Smart Home Door Lock over traditional door lock
While many people use smart home door locks in addition to a traditional door lock, the advantages that come with a smart home door lock alone are unmatchable.
1. Deadlock functionality
Your smart home door lock might be equipped with other features to enhance its security, such as deadlock functionality. This way, even if someone steals your passcode and attempts to unlock the door, it won't unlock. This is a two-step security verification method to unlock your smart home door lock.
2. Remote locking functionality
Smart home door locks allow remote locking functionality as well. This way, you do not need to be present near the door lock to lock and unlock it. No matter which places you are and what time it is, you can always check and alter your smart home door lock's lock and unlock status.
3. Auto-locking system
Even if you forget to lock your door, Smonet lock can be set to a timer to automatically lock after a few seconds on its own.
4. Track all entry-exit records
Through the app installed on your smart device, all the entry and exit details of your smart home door lock are recorded and tracked if there is an issue. Entry and exit details like who and when was your smart home door lock used are recorded into your app.
5. Battery powered
Since the smart home door lock needs electric power for smooth operations, almost all smart home door locks are equipped with a battery to support power failure issues.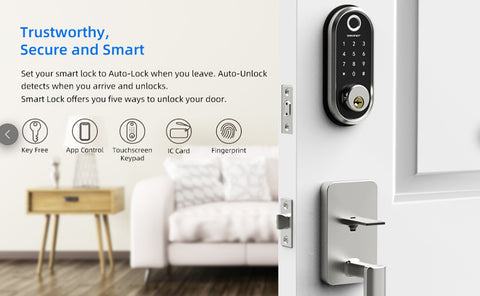 6. Presence detection sensors
Smart home door locks also have presence detection sensors to detect any movement near them. This helps a lot when you are away from your home for a long time and aren't expecting anyone to visit. If someone shows up, probably an intruder, your smart home door lock alarm can go off to make the intruder run away and send an alert on your smart device so that you can take further action.
If you are looking for a smart home door lock that serves all of the benefits mentioned above, buying a smart home door lock from Smonet would be a good and reliable choice. With over a decade of experience, Smonet smart lock are one of the best smart locks for home that you will find in the market.