If you are planning to upgrade your home's security, the first thing you need to consider is checking how secure the locks are installed on your house's main entrance door. So, if you have been relying on the traditional deadlock for your main entrance, perhaps it is time to install Smonet door lock that offers an unbeatable advantage. In simple words, we are talking about installing a smart lock at your main entrance.
Things to consider when choosing the best smart locks for home
Since so many companies today offer smart door locking systems, buying the right and the best smart locks for home can be a hard thing to do, especially if you aren't well versed on the technical side of it. But aside from its technical aspects, there are some basic things that you need to look out for before choosing the best smart lock for your home.
1. Is it an addition or a replacement
Perhaps the first thing to consider is to see whether you want to replace your existing deadbolt or other door locks with Smonet lock, or you want to add another lock to your home entrance door. This depends upon many things.
For example, if you have the habit of forgetting your door keys at home or anywhere else, then perhaps replacing the existing door lock with a smart lock is the right thing to do. This is because a smart lock doesn't require any keys to operate. But if this is not your case, then the best thing to do is add another security level to your door without replacing the existing one.
2. Door compatibility
Before choosing the best smart locks for home entrance door, make sure that it's compatible with your wooden door's size specifications. This is because if your door isn't the right type to install a smart lock, then you might have to get it replaced as well.
3. Multi-layered security

Check how many layers of security does the smart lock you are interested in buying offers. While the basic security level is a passcode entry, you might also be interested in buying a smart lock with a two-step verification process so that your basic passcode gets stolen. Still, no intrusion occurs due to the additional security layer, fingerprint scanning, voice command control, key entry, and wireless entry through the app on your smart device.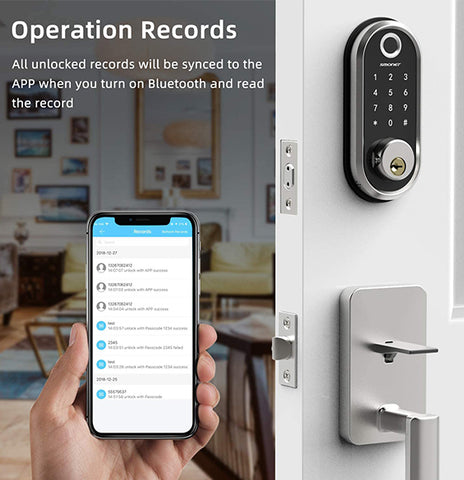 4. Remote sharing
It often happens that a guest or some worker needs temporary access to your home while you are away and cannot immediately come, just for the sake of opening the house door. In such cases, the temporary passcodes feature can be beneficial. With this feature, you can generate temporary passcodes that allow door unlocking for a limited time period or one-time use only.
5. Smart Lock Equipped with Camera
The built-in camera on the smart lock works as a basic surveillance system. It can use motion detection to alert you when someone approaches the door and help you screen your visitors.  When selecting the best smart locks for home, you can consider whether this function is necessary for your home. Also, the video is bandwidth and storage heavy. If you want to save a lot of video history, you should also consider the camera capacity.
If you were looking for the best smart locks for the home with all of the above-mentioned using state-of-the-art technology and built with over a decade of experience, all you need to check is the smart home door locks offered by Smonet. Smonet smart lock, a wide range of reliable smart lockers, is regarded as one of the best smart locks for home that is hard to find in the market.