Have you ever put your key under the mat of the front door? It allows you to have a spare key to use, but it's not safe. The thieves are smarter than we think. If you continue to put essential keys on the mat at the door, it is equivalent to opening the door to the thieves, and the property of your house is not guaranteed. But it's inconvenient to go out with the key every day. Sometimes it's worse to forget to bring the key or lock the door. But don't worry, installing an
Alexa smart lock
 will solve all the problems.
Compared with the traditional door lock, Alexa smart lock has more advantages and brings more convenience to people's life. This wifi keypad door lock of Smonet has advanced design and convenient application. It is a necessary lock for people's household applications. There are the top 5 reasons you should choose the Alexa smart lock of Smonet for your front door below.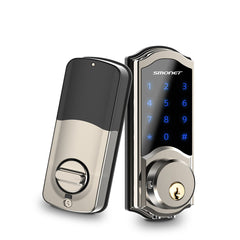 1. Multiple unlocking methods
In addition to using a physical key to open the door, Alexa smart lock also supports password unlocking and voice unlocking, providing people with greater convenience. When you have many things in your hand, and there is no time to get the key, you can use the
wifi keypad door lock
 to unlock through a password or voice easily. This wifi keyless door lock can generate up to 500 passwords. You can share the password with your guests, friends, or housekeeper.
2. Better security protection
Compared with traditional door locks, Alexa smart lock can better ensure the property safety of your house. You know, it's straightforward to copy a key. However, with Alexa smart lock, you can change the lock password or voice settings at any time, which is equivalent to changing a new lock. The advantages of the Alexa smart lock over traditional door locks are self-evident.
When the wrong password is inputted more than five times, Alexa smart lock will automatically lock for 5 minutes. This wifi keypad door lock's automatic locking function makes you no longer worry about forgetting to lock the door when you go out. What's more, with its anti-peep password input method, strangers can't steal your password by looking at worn-out keypad digits or watching you nearby when you enter the password.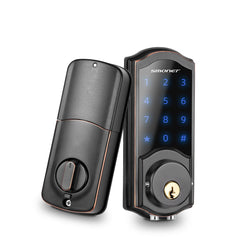 3. View event history
You can know when your friends or guest enter and exit your house through the Alexa smart lock's function. You can receive real-time notifications and check the latest 500 openings wherever you are.
4. Alarm function
If the battery is running out, the Alexa smart lock will emit a low-battery warning sound. And its battery status will also be updated on the app. Besides, this wifi keyless door lock's built-in anti-intrusion technology will alert you through the app when anyone tries to break into your house unusually. Last but not least, you can use the anti-theft alarm feature of this wifi keypad door lock to protect your house.
5. Easy to install
Electronic deadbolt locks are compatible with standard US wooden doors. A simple operation for one person is enough to install Alexa smart lock.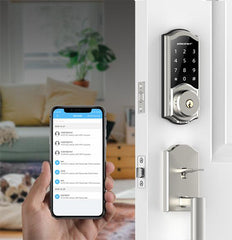 Smonet has the best wifi door lock. Our high-quality products help you monitor the security of your home, small business, or medium and large enterprise. We are committed to making your home and office safer and more comfortable. Our company is committed to creating the best safety products for consumers and business owners. We have established a good reputation worldwide for providing high-quality products and excellent customer service.