Have you ever been locked out of your home for hours because you forgot to bring your key? Have you ever feared that someone with an evil intention would pick up your lost key? Have you ever been when a friend suddenly visited, and you happened to be outside, you can only awkwardly persuade your friends to go home first? Or when someone rings the doorbell when you live alone, you dare not open the door because you don't know if it's a bad person? If you encounter these small situations frequently, then Smonet
Bluetooth smart lock
 and Video Doorbell can help you well and provide you with many conveniences.
In today's intelligent world, we should enjoy the convenience that technology brings us. It's time to change your home with a Bluetooth smart lock and Video Doorbell. With this wifi keypad door lock and smart doorbell, you will have a new experience. Next, this article will focus on the high-quality Smonet Bluetooth smart lock and Video Doorbell.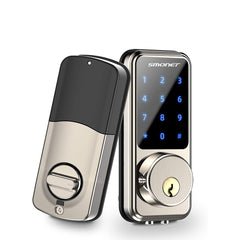 Smonet Bluetooth smart lock
It's a good idea to have a Bluetooth smart lock. Firstly, you no longer have to worry about leaving home and forgetting to bring your keys. Secondly, Bluetooth smart lock enables keyless enter. You have up to 500 passcodes of the
wifi keypad door lock
 on the TTLock App, and you can share the passcodes with your children, friends, guests, and housekeepers. When relatives and friends come to stay at your home for a while, you can share the password with them.
Thirdly, Bluetooth smart locks can keep your house safe. You can lock the door from the app remotely. And it will automatically lock for 5 minutes if someone enters an incorrect passcode more than five times. Nowadays, an increasing number of young people choose to live alone. Safety is the most important consideration when they live alone. Bluetooth smart lock is undoubtedly the best choice for security protection.
Fourthly, Bluetooth smart lock can provide you with higher convenience. Have you ever imagined that you will lock and unlock the door with your voice? Bluetooth smart lock will help you achieve this dream. You can control this best wifi door lock with your voice by connecting it to your Alexa device or the home wifi.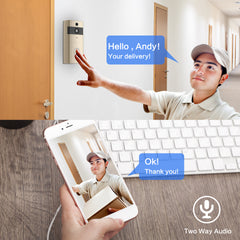 Smonet Video Doorbell
Once the doorbell rings, would you like to see who the man is before opening the door for him? Then Smonet video doorbell will be the best choice. Smonet video doorbell is a smart doorbell that allows you to talk to your visitors wherever you are through a real-time video on your smartphone. Combined with our Smart Hub, you will be quickly informed when someone is calling outside. Besides, no wires or cables are required on this video doorbell. All you need to do is set up the doorbell, download the APP, then synchronize it to your doorbell. You can access 720P HD lives video at any time from your mobile phone.
Moreover, whenever any motion is detected, the doorbell camera sends an alert to your mobile phone. You can monitor your house's safety at any time with this video doorbell. Last but not least, the video doorbell can help you save energy. This video doorbell adopts ultra-low-power technology. And it can regularly work for 8~12 months.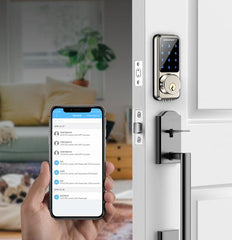 Our Smonet best wifi door lock and video doorbell are designed to provide you with maximum security to protect you and your rights better. When purchasing a Smonet product, you are boosting your home safety. You also benefit from 24/48-hour shipping time from our local warehouse, complete after-sales technical support, and our US/local replacement warranty and return services. Don't hesitate to contact us if you have any questions or comments.